ArtStations of the Cross
In de 40-dagen tijd voor Pasen heeft de Doopsgezinde Singelkerk extra openstelling voor een combinatie van kunst en muziek. Tot en met 20 april  is de kerk dagelijks van 12:00 tot 15:00u open in verband met onze deelname aan de Art Stations of the Cross, een verbeelding van de lijdensweg van Jezus door toonaangevende, eigentijdse kunstenaars. In de Singelkerk zijn te zien het tweeluik Der Tod und das Mädchen (Janpeter Muilwijk) en de 3D stereoscopische installatie Josephine's Well (Arent Weevers). Voor belangstellenden is dagelijks om 12:00 een rondleiding mogelijk.
Daarnaast vindt elke zaterdag in deze periode om 13:00u een gratis toegankelijk  lunchconcert plaats; op 20 april de laatste. Op deze zaterdagen is de rondleiding om 12:15u.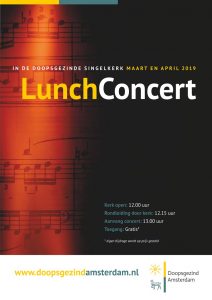 Kaart niet beschikbaar
Datum/Tijd
02/03/2019 - 20/04/2019
12:00 - 15:00